Perspex Classification Guide - Design 2
Product Code: #559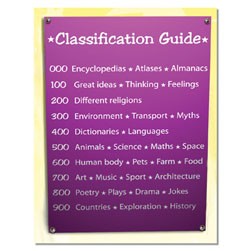 This 500mm x 700mm Perspex Classification Overview design 2 will be an excellent visual addition to your library. Use to assist library users to find non fiction resources effortlessly.
This perspex overview can be supplied with holes in all four corners and attached to bay ends or walls with our silver screw caps, stylish Silver Signs Supports (sold separately).
Available in a range of perspex and lettering colours to suit your library.