Custom Selection | Junior Genre Sticky Back Signs
Product Code: #C7859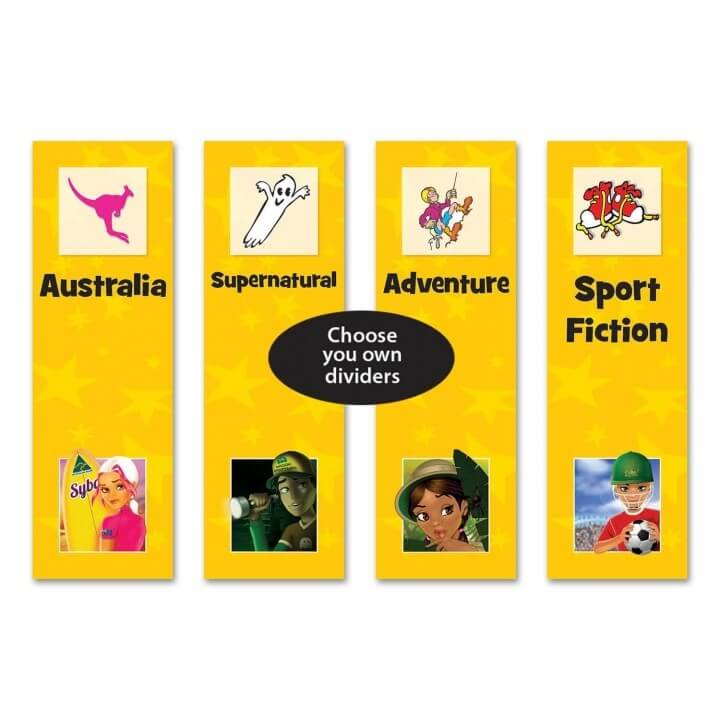 Description
Specifications
These Junior Genre Sticky Back Signs are adhesive and designed to be applied to our Acrylic Collection Dividers (sold separately). For double-sided application to Acrylic Collection Dividers order two sets of signs. Signs are designed to coordinate with our range of genre spine labels, shelf labels and posters (sold separately).
This product includes:
One adhesive Junior Genre Sticky Back Divider Sign.
Choose from the following divider signs: Historical Fiction, Mystery, Humour, Fantasy, Family & Relationships, Science Fiction, Adventure, Sports Fiction, Horror, Animals, Crime, Supernatural, War, Australian Stories (or New Zealand Stories), Diary Stories and School Stories.
The following additional divider signs are available however each includes a single image of the corresponding spine label only: Aboriginal Peoples, Choose your own, Graphic Novels, Love, Stories in Rhyme, Traditional, Westerns, Wordless Stories.
Please contact us for additional customisation options including custom genre wording.
Also available in a set of 16 dividers. Please select an option above in the dropdown menu.
Product Options: